Education Ministry's proposed regulations on national exams unpopular with public
The 2015 exam finals will take place in six months, but things are still in a stir and a jumble. Students disagree about many new regulations the Ministry of Education and Training (MOET) has attempted to set.
A mini survey conducted of 200 12th graders in HCM City showed that 70 percent of students do not agree with MOET's plan on exempting students who have international certificates from the foreign language exam. Meanwhile, 50 percent disagree with the 20-score marking scheme.
Some students agree that the way of organizing final exams needs to be reformed, but are concerned if they can successfully adapt to any new changes.
Under a draft regulation opened for public opinion, those students who have international certificates would not have to sit the foreign language final exam, while they would receive the highest mark for the exam subject.
"This is completely unreasonable and unfair," said Le Dang Phuong Thao from Thanh Nhan High School in Tan Phu district of HCM City.
She also opposes the 20-score new marking scheme.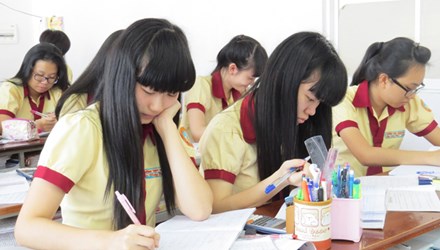 Nguyen Thanh Sang, a 12th grader, commented that it would be unfair for the students in remote areas who do not have conditions to attend extra classes and obtain international certificates in English.
"It would be better if all students attend the foreign language exam," he said. "No one can say for sure that the students with international certificates can get the highest mark if they sit the exam."
Truong Thong Nhat, also a student at Thanh Nhan High School, noted that there are too many changes in the upcoming 2015 finals, which worries students.
"We fear we don't have much time to adapt," Nhat said. "I think the new regulations should be applied on a trial basis in some localities before they are applied all over the country."
When explaining why she opposes the new marking scheme, Thao also said that the new scheme would place students under pressure, because students cannot be well prepared for the new conditions.
Educators themselves, while believing that the 20-score marking scheme is a good idea, are not sure if it should be applied at the 2015 finals.
A high school teacher in Hanoi noted that the new marking scheme has many advantages because it better assesses students' abilities. However, she thinks it would not be a good idea to apply the scheme immediately.
She noted that clever students would not like the new marking scheme, because they usually skip transitional steps in solving math questions.
"The prompt application of new rules will shock students," she said.
21:38, 2023/12/05
Vietnamese doctors master single-port endoscopy
Pediatric Surgery Ward at Hanoi-based Saint Paul General Hospital is one of two centers in the world to perform laparoscopic common bile duct surgery without complications.