First Vietnamese film on bisexuality screened in HCM City
The first Vietnamese movie about bisexual love, Lac Gioi (Paradise in Heart) produced by Tincom Media, had its premier showing on Monday in HCM City with 800 people attending.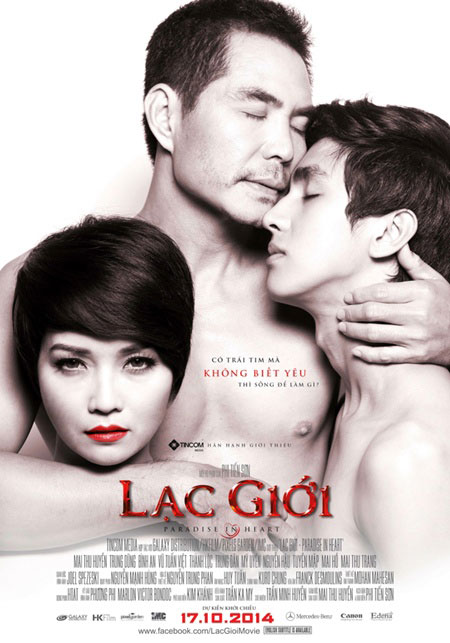 Lac Gioi (Paradise in heart), the first film about bisexual love, will be screened this weekend.
Featuring relationships between a bisexual man, a gay man and a straight woman, the film is a rare event in Viet Nam, where action and comedy films dominate.
Along with the beauty of love, the film depicts the sad stories of each character.
One of them is an older man who has escaped from prison, and the others are an ill young gay man in his early 20s who lives without parents who show him no love, and a nurse who spent her youth and beauty taking care of the young man when he was a boy living in an isolated part of the country.
Although the relationships among the characters are brief, including an affair between the woman and the older man and between the two men, they all dared to sacrifice for the one they loved.
Director Phi Tien Son, who also wrote the screenplay, said it took him four months to write the script, which was based on an idea from well-known actor Trung Dung.
After that, Son spent time learning more about bisexuality and read documents, watched films and looked at photos. He then cast Trung Dung in the main role.
After the film was shown on Monday, it received strong support from the audience, especially the lesbian, gay, bisexual and transgender community (LGBT).
One woman in the audience wrote on her Facebook page that the film had not disappointed her. She said it had been difficult to address the topic, but the director and actors had performed their roles well.
Another woman wrote on Facebook that, of all the films that have dealt with bisexuality, she liked this film second after Brokeback Mountain.
Filmed on the sand hills in Ninh Thuan Province, the film was shot by American director of cinematography and included other famous Vietnamese actors and actresses such as Mai Thu Huyen, Binh An and Thanh Loc.
The film will be screened at cinemas nationwide on October 17.
15:26, 2021/26/23
Hanoi Battle in winter 1946 reenacted
The ongoing exhibition themed anti-French resistance war at Hoa Lo Prison provides an insight of the Vietnamese army and Hanoians' historic national resistance in 1946.